Beijing University of Technology "Bonding Tech and Heart" International Academic Conferences 北京工业大学 "匠心相通" 系列国际学术会议
With much expectation, ICITE 2022 was finally held successfully in virtual form during November 12-13, 2022. Although unpleasant situation prevents us from gathering at beautiful Beijing, the conference was still activated by the warmness of participants! ICITE2022 is Co-sponsored by IEEE, Beijing University of Technology, China and Beijing Jiaotong University, China. Technical sponsored by International Office, Beijing University of Technology, China and Sino-Polish University Consortium under the "Belt and Road" Initiative.
尽管受到疫情影响,第七届智能交通国际会议通过线上虚拟会议的形式召开,与会作者的热情不减,会议圆满成功。本届会议由北京工业大学,北京交通大学和IEEE共同主办;北京工业大学国际交流合作处和"一带一路"中波大学联盟共同协办。

Some online participations with camera on
Conference Proceedings
ICITE 2022 | IEEE ISBN: 978-1-6654-6006-4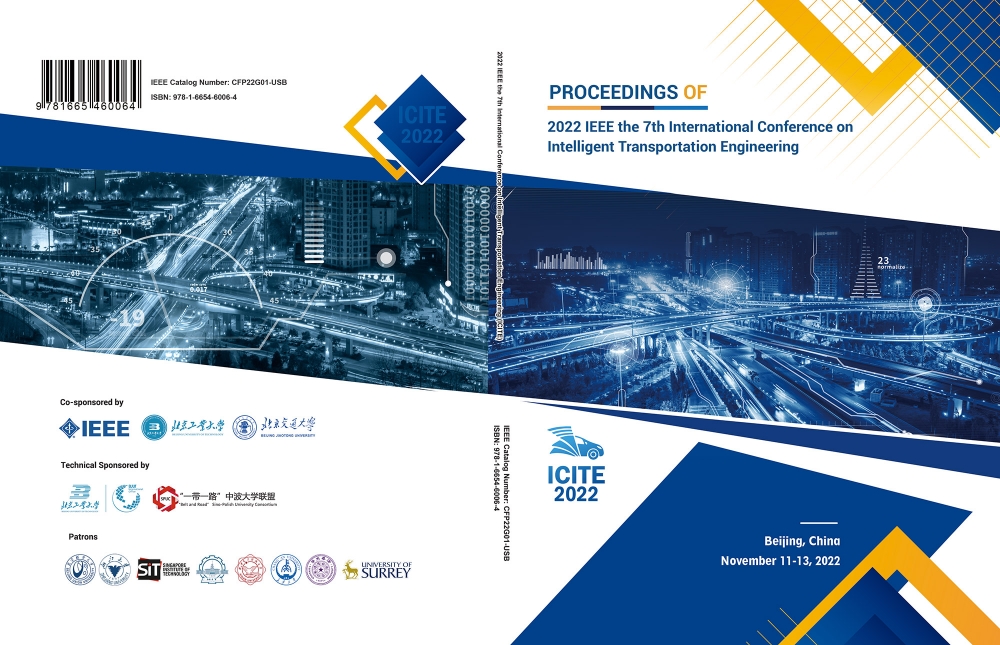 Photo Gallery
On November 12, Conference Chairs - Prof. Bo Ai and Prof. Yanyan Chen made an opening remarks and welcome address respectively.
会议于11月12日上午在线上开幕。会议伊始,北京工业大学郝明阳老师做为会议主持隆重介绍到场嘉宾。首先大会主席北工大城市交通学院院长陈艳艳教做为大会主席致开幕辞,代表大会组委会成员对学者们的出席表示热烈欢迎,接着,大会主席北京交通大学艾渤教授欢迎辞,对此次协助单位表示感谢,对大会的召开表示了衷心的祝愿。
On keynote and invited speeches session, Prof. Guoqiang Mao, Prof. Qinyu Zhang, Prof. Kun Yang, Prof. Jun Fang, Prof. Yongpeng Wu, Prof. Dong Yang and Assoc. Prof. Chunxiao Jiang delivered excellent speeches.
在11月12-13日上午举行的大会报告和特邀报告环节有来自国内外7位专家教授就智能交通的现状及发展做了精彩的主题报告。他们分别是 毛国强教授,IEEE Fellow,西安电子科技大学; 张钦宇教授, 哈尔滨工业大学(深圳); 杨鲲教授,IET Fellow, 欧洲科学院院士, 英国埃塞克斯大学; 方俊教授, 电子科技大学; 吴泳澎教授, 上海交通大学; 杨冬教授,北京交通大学;姜春晓副教授,清华大学。
Moreover the conference was composed of Best Student Papers Competitions and 12 technical oral sessions, topics covered, for example, Traffic Data Analysis and Traffic Information Management, Image Analysis and Application in Transportation System, Traffic Flow Prediction and Analysis, Smart Highway and Road Infrastructure Construction, Intelligent Driving and Machine Vision and so on. Each parallel session went through smoothly and a "Best Presentation" award was issued at the end of sub-conference.
ICITE 2022 吸引了140多位专家学者以及公司代表参与会议讨论,本次会议设置了12个分会场以及优秀学生论文遴选会场。在为期三天的会议中大家围绕交通数据分析与交通信息管理、图像分析与交通系统应用、交通流量预测与分析、智慧公路与道路基础设施建设、智能驾驶与机器视觉等主题进行了论述,并分享了各自领域的最新研究和经验。
11月13日下午,ICITE 20222闭幕,闭幕式由北京工业大学李晔老师主持,闭幕式上还进行了颁奖环节,优秀学生论文奖依次揭晓,获奖人均获得证书的嘉奖。至此ICITE 2022圆满成功并正式落下帷幕。
Best Student Papers Awards
TE22-3052 Yung-Chang Hsiao | Taipei University
for the paper co-authored with Shiu-Li Huang
entitled
The 5G NR Beamforming Grid for Next-Generation Electronic Toll Collection System
TE22-3074 Rui Liu | Zhejiang University, China
for the paper co-authored with Chenge Geng
entitled
Research on Train Positioning Technology of Urban Rail Transit based on Lidar
TE22-3102 Haiqiang Xin | Beihang University, China
for the paper co-authored with Peng Chen
entitled
A Real-Time Traffic Signal Optimization Method for Alleviating Queue Spillover on Urban Arterial
TE22-3011 Jinhao Li | Tsinghua University, China
for the paper co-authored with Shuocheng Yang, Xiang Zhao, Chunlin Wang, Yuning Wang, Jianqiang Wang
entitled
Autonomous Hedging System Designed for Driver Disability Accidents Based on Emergency Risk Field
Best Oral Presentation Awards
Session 1 - (TE22-3065) A Deep Learning Framework for Traffic Data Imputation Considering Spatiotemporal Dependencies | Li Jiang, Tsinghua University, China
Session 2 - (TE22-3123) Routing Design and Departure Time Determination of Customized Buses Based on Reserved Trip Request | Zhuxuan Cheng, Beijing University of Technology, China
Session 3 - (TE22-3042) Research Infrastructure for Real-time Computer Vision Applications in Unmanned Aerial Systems | Luigi Raphael I. Dy, Purdue University, USA
Session 4 - (TE22-3081-A) Service Network Design with Consistent Multiple Trips | Chuanju Liu, Tsinghua University, China
Session 5 - (TE22-3122) Smart Upgrades and Digitalization of Traditional Roads: A Case Study of Tonglu County for the Asian Games | Xiao Yan, Zhejiang Institute of Communications Co., Ltd., China
Session 6 - (TE22-3092) Ant Colony Optimization for Multi-Phase Traffic Signal Control | Xiao-Hua Yu, California Polytechnic State University, USA
Session 7 - (TE22-3104) Proxy Model Construction for Aerodynamic Effects of High-Speed Trains in Tunnels and Research on Optimization Method of Key Parameters of High-Speed Railway | Ning Xu, China Academy of Railway Sciences Group Co., Ltd, China
Session 8 - (TE22-3064) Framework for Highway Traffic Profiling Using Connected Vehicle Data | Zijia Zhong, New Jersey Institute of Technology, USA
Session 9 - (TE22-3031) A Multi-task Oriented Optimization Method for Urban Rail Overhaul Workflow based on Critical Chain Method | Shan Huang, Shenzhen Technology University, China
Session 10 - (TE22-3090) DyLESC: A Dynamic LiDAR Extrinsic Self-Calibration Method for Intelligent Driving Vehicles | Haoxiang Jie, Neusoft Reach automotive Technology Ltd., China
Session 11 - (TE22-3084) The Methodology for Predicting the Monthly Urban Traffic Accidents | Jiaxuan Wang, Chang'an University, China
Session 12 - (TE22-3040) Systematic Review on Classical Car-Following Models | Jiacheng Yin, Southwest Jiaotong University, China
ICITE2022 Speakers
Guoqiang Mao | 毛国强教授
IEEE Fellow,IET Fellow
Xidian University, China
Kun Yang | 杨鲲教授
IET Fellow, 欧洲科学院院士
University of Essex, UK & University of Electronic Science and Technology of China, China
Qinyu Zhang | 张钦宇教授


Harbin Institute of Technology, Shenzhen, China

Jun Fang | 方俊教授
University of Electronic Science and Technology of China, China
Dong Yang | 杨冬教授
Beijing Jiaotong University, China
Yongpeng Wu | 吴泳澎教授
Shanghai Jiao Tong University, China
Chunxiao Jiang | 姜春晓副教授
Tsinghua University, China